About the
Library of Dance
Nick & Melissa
Nick Enge is the co-author (with acclaimed social dance historian Richard Powers) of Waltzing: A Manual for Dancing and Living, a book which describes twenty-five different kinds of waltzing and more than one hundred variations thereof, and includes many essays on the ways in which social dancing can enrich our lives. While he recently graduated from Stanford with a B.S. in Atmosphere/Energy Engineering, and a M.S. in Earth Systems, he is currently devoting his life to researching and teaching social dancing, which he sees as his greatest opportunity to make a difference in the world.
A dancer since the age of three, Melissa Enge has extensive experience in many different dance forms including ballet, jazz, tap, Indian fusion, and social dancing. She recently graduated with a B.A. in Linguistics from Stanford University, where she currently teaches social dancing with Richard Powers.
Melissa and Nick met in 2011 as members of the Viennese Ball Opening Committee, an elite group of thirty-six dancers who perform an elegantly choreographed waltz and polka during the Opening Ceremony of the Stanford Viennese Ball, an annual tradition for nearly 40 years. In 2014, they teamed up to choreograph the Opening waltz and polka for the 37th Annual Ball.
Together, they are frequent teachers of social dancing at Stanford and around the San Francisco Bay Area. They run the Tuesday Night Couple Dancing and are frequent teachers at Friday Night Waltz and Gunn High School.
In March 2014, they were invited to Austin, Texas, where they led an exciting weekend of waltz workshops. In August 2015, they ran a series of nine dance events at Sasquan, the 73rd Annual World Science Fiction Convention (WorldCon) in Spokane. In July 2016, they partnered Richard Powers and Jitka Bonušová at Stockton Folk Dance Camp.
On October 23, 2015, they got engaged! A year later, on October 23, 2016, they got married!
We're available for classes, events, private lessons,
weddings, performances, choreography, and more!
!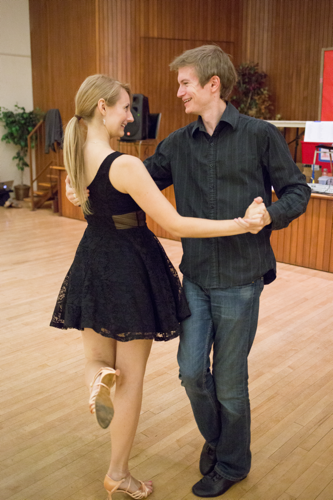 Photo by Jeremy Chang
The Library of Dance
We, Nick and Melissa, are using our knowledge to create a library of social dance variations in waltz, swing, and the Latin dances. And best of all, we're making this library available to everyone in the world, for free!
With more than 1,300 variations posted to date, and thousands more just waiting to be filmed, the Library of Dance is always growing.
To see our latest videos, simply click on the playlist below. You can also see our entire collection of demo videos organized by dance at: libraryofdance.org/dances
---
For more, including descriptions of 25 different waltzes and hundreds of variations thereof, see Waltzing: A Manual for Dancing and Living a book by Richard Powers and Nick Enge.
---
Home About Dances Classes Manuals Search Friends Patrons
---